Top 10 of the best places to picnic in Quebec
4 min read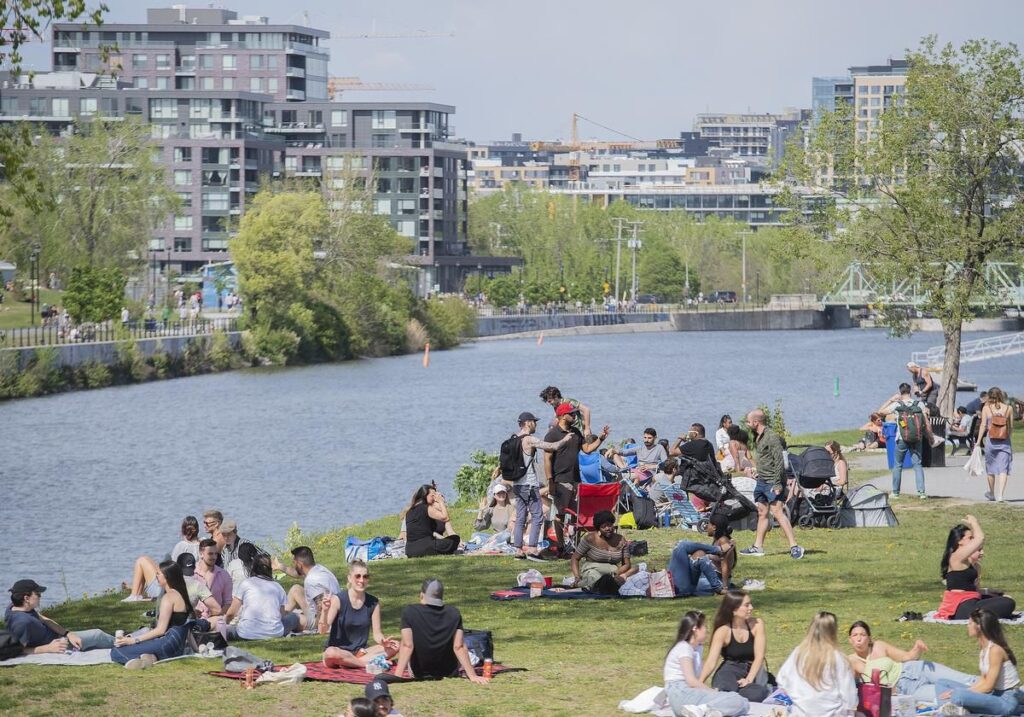 On vacation, with a well-filled basket in hand, enjoy the great outdoors with your family! Here are 10 perfect places to have a picnic this summer in Quebec!
Plains of Abraham, Quebec
Who says picnic in Quebec necessarily says Plains of Abraham, with its wide expanses of greenery and its breathtaking view directly on the river. Head to the Martello Tower area for a more relaxed atmosphere where it will be good to sunbathe!
Located in Kingsey Falls, Marie-Victorin Park is a horticultural park of impressive dimensions. In this park, nature comes alive with giant mosaic cultures, six gardens and a tropical greenhouse teeming with exotic birds. Take advantage of your visit to go picnicking near the falls!
Located in the heart of three municipalities, Sainte-Béatrix, Saint-Jean-de-Matha and Sainte-Mélanie, this park includes a 17-kilometre network of hiking trails, multiple picnic areas and a nature interpretation trail. nature. Don't miss the fabulous spectacle of the three falls: Monte-à-Peine, des Dalles and Desjardins!
Mount Royal Park, Montreal
An important green space in the metropolis, Parc du Mont-Royal is the ideal place to decompress from the routine and take a breath of fresh air. Head to Beaver Lake to rest and enjoy a nice family picnic!
Near the Baie-Saint-Paul wharf is this trail along the coast of the St. Lawrence. The Boisé du Quai welcomes nature lovers and birdwatchers who can enjoy this exceptional part of the coast thanks tan observation platform overlooking the marshes. A wonderful site to stop and have a bite to eat!
Only an hour from Montreal, in Châteauguay, is this natural site imbued with tranquility. You can discover the Marguerite-D'Youville wildlife refuge where you will have a breathtaking view of Lake Saint-Louis. Picnic near the pretty trails filled with migrating birds, then treat yourself to a few moments of serenity with the yoga sessions offered in the summer.
At Pointe-aux-Corbeaux, in the town of Hope, is this natural park with a walking trail. For 1.5 kilometers, the trail passes through a strip of trees and shrubs along a reddish-colored cliff. The site allows you to have a snack while observing the flora and the habitat of various species of birds.
To contemplate the Ouareau River, what better than a stop in this Rawdon park. On a hike, you will see sublime falls, 60 feet high, surrounded by a verdant forest. Lookouts and ecological trails will allow you to appreciate the native flora, while the huge pines will serve as roofs for picnics.
Along the St. Lawrence River for 2.6 kilometres, Parc de la Plage-Jacques-Cartier offers sun, beach and water. The perfect place for a picnic under the salty breeze and for a leisurely stroll along the Grèves trail.
An initiative of Évasion viago.ca  inspires and guides French-speaking travelers in words and images. Our collaborators offer avenues that transform the desire to leave into concrete projects. Through the roads, the mountains, the beaches, and the people who live there, our team unearths  the most striking travel destinations  to achieve in Quebec, Canada, the United States and elsewhere in the world. Discover viago via its  travel tips  and  inspirations  , its  advice , its  videos  and its  Facebook page .
Even if often going to the beach is synonymous with lazing around in a lounge chair and book in hand, there are several fun and original games that can be played, which will amuse children and adults alike!
Less well known than the Sépaq national parks, Quebec's regional parks deserve to be explored. We go there as a family to enjoy nature and above all, practice a variety of fun activities!
Summer is finally upon us, and after many weeks spent indoors, the urge to enjoy the good weather is growing. That's good, because Quebec is full of superb bike paths to discover with the family!
We have called on the employees of Mamanpourlavie.com to present our personal macaroni recipes to you, which have been a sure hit with our children.
It's not always easy to keep your spirits up in these times of confinement. Whether we are esoteric or not, we like to try everything to make the atmosphere of our home more positive and serene.
It's very tempting to use weekends to make yourself useful, but you have to learn to resist! Here are 10 things not to do to really take advantage of these short holidays!
It's important to play outside and get some fresh air, but sometimes work forces us to stay inside. To keep the little ones busy, here are 9 easy-to-make slime recipes.