Which are the ten most luxurious airports in the world?
4 min read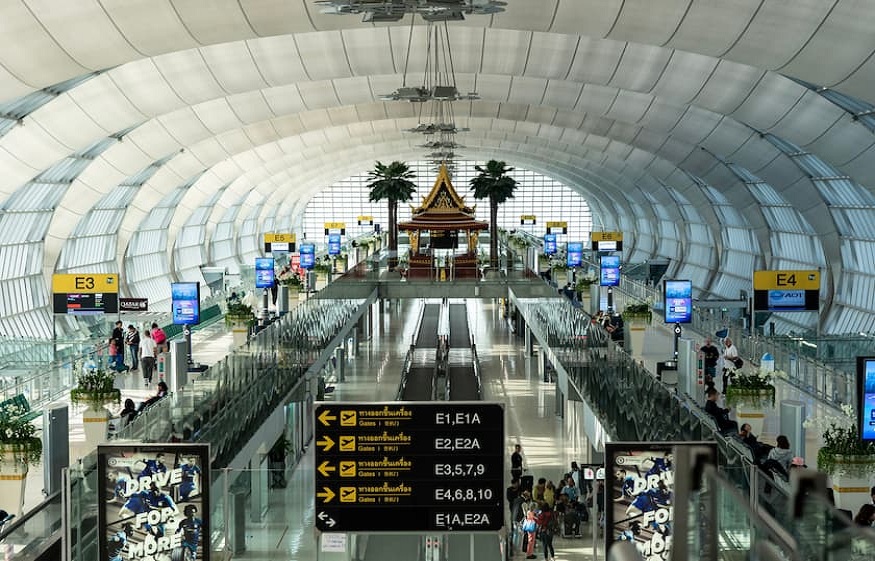 Travelling is a pleasure in itself, and if you decide to do it while visiting some of the most luxurious airports in the world, it will probably increase. We can find more than 42,000 airports of all scales, colours and shapes around the globe. Some stand out for their simplicity, and others for their ornaments and the luxury that characterises their terminals. 
For this reason, in this post, we are going to talk to you about which are the ten most luxurious airports in the world so that you can satisfy your curiosity a little more if you are thinking of flying and, who knows, end up in one of them to get to know it. 
Meet the most luxurious airports:
In the following list, you will be able to know the airports that make up the top 10 of the most luxurious airports in the world, going from China to Canada. 
1. Dubai International Airport (DXB), United Arab Emirates:
It is one of the Largest airports in the world, but it is also one of the most luxurious, which is why many travellers end up stopping at it to visit it. In it, you will find one of the largest duty-free shopping centres in the world. This luxurious airport is the base of Emirates and other international airlines.
2. Frankfurt International Airport (FRA), Germany:
It is the fourth airport with the highest level of passenger traffic in the world, and, in addition to being part of the list of the most luxurious, it is also one of the most efficient in its services. In it, you can find numerous VIP services such as lounges with incredible views, bubble bathtubs and smoking areas inside the terminal. 
3. Changi International Airport (SIN), Singapore:
According to the magazine, it is the home of the Singapore Airlines line, the favourite of Condé Nast Traveler readers. More than 280 awards have been won for This airport for its facilities and services. It is a destination in itself, where you can enjoy gardens and waterfalls, a wide variety of restaurants and outdoor terraces. The airport also has a swimming pool for those who want to take a dip if they have some time, automatic boarding gates and free high-speed Wi-Fi.
4. Vancouver International Airport (YVR), Canada:
This airport appears to cross between a museum, a high-end shopping plaza, and an aquarium. Yes, all novelty for the senses includes a series of ponds with various aquatic animals and decorations made up of totems and figures typical of the original Canadian culture. 
5. Amsterdam-Schiphol International Airport (AMS), The Netherlands:
This Dutch airport has a unique feature: you can find art galleries, bookstores and VIP lounges where you can while away the hours and enrich your imagination. In addition, due to multiculturalism, you will also find rooms for the prayer of different religions and meditation areas. 
6. London Heathrow International Airport (LHR), United Kingdom:
This airport is located in London, in the United Kingdom, and is one of the busiest in Europe for passenger traffic. In it, you will enjoy numerous services and incredible comforts if you are part of the travellers in transit. For example, the World of Whiskeys store is famous for its popular Scotch whiskey tastings. In addition, shoppers can enjoy this entire terminal to fulfil their desires in numerous luxury brand stores.
7. Chubu Centrair International Airport (NGO), Japan:
This luxurious airport is on an artificial island in Ise Bay, about 35 kilometres from Nagoya, Japan. It is one of the modern airports, standing out for the high technological level of its facilities. It also consists of the leading international gateway for the central region of Japan. It has many clothing stores, electronics, bookstores, beauty salons and even massages and services to relax and give yourself something else. 
8. Chek Lap Kok International Airport (HKG), Hong Kong, China:
In Hong Kong, China, we find this airport where we find numerous restaurants, more than 40 luxury stores such as Rolex, Cartier and Louis Vuitton, lounges and even a golf course. 
9. Munich International Airport (MUC), Germany:
If you like Christmas, you will want to know this place since this airport has numerous curiosities, among which the Christmas Market stands out, which during the Christmas season is filled with different businesses, presentations and even where you can find runway ice in which to enjoy the Christmas atmosphere that invades the airport on those dates. 
10. Helsinki-Vantaa Airport (HEL), Finland:
You can find this airport in Vantaa, a city near the capital of Finland. It is the busiest airport in the Nordic countries and has a curiosity by way of comfort: a relaxation room where passengers will find bunks to rest.  
If you are taking a trip abroad that involves taking a plane and you are interested in knowing which countries do not accept a Spanish passport, take a look at this post, where we will tell you the details. And if you are also thinking of flying with your furry companion, don't forget to visit this other post, in which we tell you the main steps you must follow to fly with your pet.